The Brand Story
YSSO [/ˈiː.soʊ/], pronounced as EE-so, is derived from the word gold in Greek, "chrysso". Inspired by the concept of a blank canvas, the brand purpose is the creation of unique distinguishable designs that speak to an audience irrespective of age, gender or culture.
YSSO is a London and Athens based jewellery label from creative mom-and-daughter duo Alexia and Stalo Karides. Stalo, who is an archeologist and art historian, has over 30 years experience in jewellery making. Alexia – her daughter – is an ex-corporate lawyer and the Creative Director of the brand. Together they co-design all YSSO jewellery, with every piece hand-carved and crafted in a foundry and workshop near Athens. Individuality and uniqueness come across in all the designs which are often asymmetrical, sculptural and bold in style.
A shared vision of modern jewellery making characterizes their timeless Greek inspired designs. History and creativity merge seamlessly. Cultural inspirations deriving from their Greek heritage, as well as their joined lives in France, and the UK highly influence the designs, and outlook of the brand.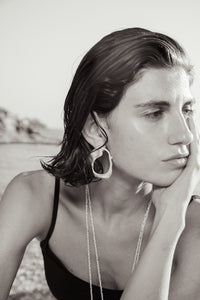 Modern Greek Design
Inspired by the ancient Greek principles of balance and harmony, we strive to develop a contemporary Greek design ethos, telling a story, reflecting the country's cultural narrative. By blending the old with the new, our mission is to showcase a harmonious fusion of the past and present, creating a distinct visual language that moves past the ancient, but at the same time celebrates it.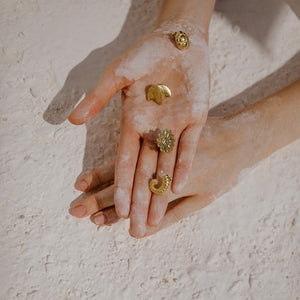 Sustainable Design Practices
At YSSO we prioritise the use of local and recycled materials, employing environmentally conscious production techniques. This commitment to sustainability aligns with Greece's natural ethos and resonates with consumers who value responsible consumption.
Connection to Nature
Greece's unique landscapes and natural beauty have always been a significant influence on our design. We naturally tend to emphasise a strong connection to nature, integrating organic forms, materials, and motifs. Incorporating elements from the sea, mountains, or the Greek flora, we often draw inspiration from our country's diverse natural environment.